About Us
Toyo Piano was established aiming to produce piano which is favored by customers of all over the world in 1948. Since then, over half century we have met the demands of our customers who loves piano by the technology of the craftsmanship.

Through our own unique production system, the technology we polished up can make it possible that once believed impossible to meet such a delicate requirements. And our challenge did not stay in piano production.

We promote our business from the production of music hall where entertain audience more than enough to the total teaching system of piano lesson as well as faster progress method for students.

Moreover, we have a program for the tuning servicemen who exploit next generation of music.

Our skill of master craftsman and advanced technology are both expanding to new business areas. We supply our own products to the market of car interior components and high-class household where high level of woodwork processing techniques are always required.

Besides, Toyo Piano has established the conservatory of tuning and aiming to cultivate the best of piano craftsman and tuning servicemen. In 2013, Chairman Instrument became the first and only organization which was supported by Toyo Piano for establishing Toyo Tokiwa Tuning Association. Tokiwa inherited the fine techniques and tradition from Toyo Piano.
Toyo Piano Tuner's Arts
Since 1948, Toyo Piano keeps cultivating more than 600 brilliant tuning servicemen and engineers. They are all inheriting the techniques and tradition from Toyo Piano to other piano manufactures. As a training base for piano craftsman and tuning servicemen, Toyo Piano provided a perfect training environment for each student even better than other institute. Especially, all the training programs were designed by Toyo Piano for nurturing the tuners of next generation having skill and mentality of the artist. After completing two years curriculum, these students sending to all over the market as tuning artist and dedicating concerts with the skill and mentality of Toyo Piano.
NURTURE AN IDEOLOGY
1) To NURTURE MORALITY, WISDOM, PHYSICAL STRENGTH, BEAUTY and development thereof. to comply with 21 century society requirements.
2) The Need for economical development, handle basic theoreticals of science subjects.
3) Professionals equipped with exploration ability and practical ability.
REWARDS DUE TO EDUCATION CAUSE
1) Some excellent toners being employed by large musics companies.
2) Some excellent technical personnal run their own musics companies.
3) At work with piano maintenance in various paino competition arenas.
4) Appointed piano toner for Steinway both in international piano competition in Hamamatsu city.
The Unique SSS System (Slide Soft System) For enhance and improve the performance and stability of the upright piano, Toyo Piano created the unique SSS system. When player stepped on the soft pedal, the keyboard will slide to the right and made the upright piano sounds much better than the general upright piano. It functioned like the grand piano. The Unique SSS System has been successfully improved, therefore replace the old traditional upright pianos hammering functions.
| | | | |
| --- | --- | --- | --- |
| | Grand piano with "SSS" | Upright piano with "SSS" | General upright piano |
| Hammering (per sec) | Almost 13 times | Almost 11 times | Almost 7 times |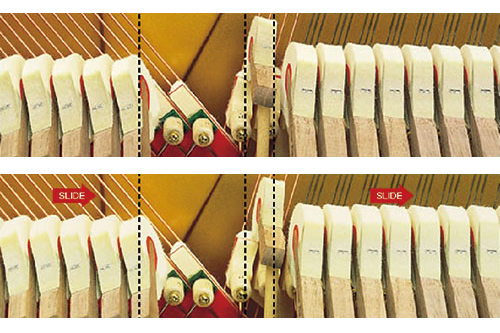 The SSS system has been approved by the local famous music universities, institutes, pianists, teachers and performers and recognized that it definitely was strengthen the traditional upright piano.
TOP